Super Thin Condoms
25 Mar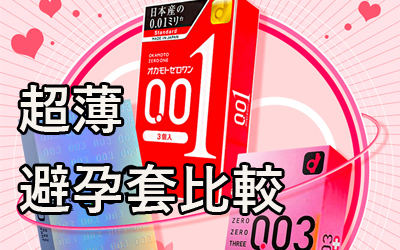 Posted By
0 Comment(s)
2134 View(s)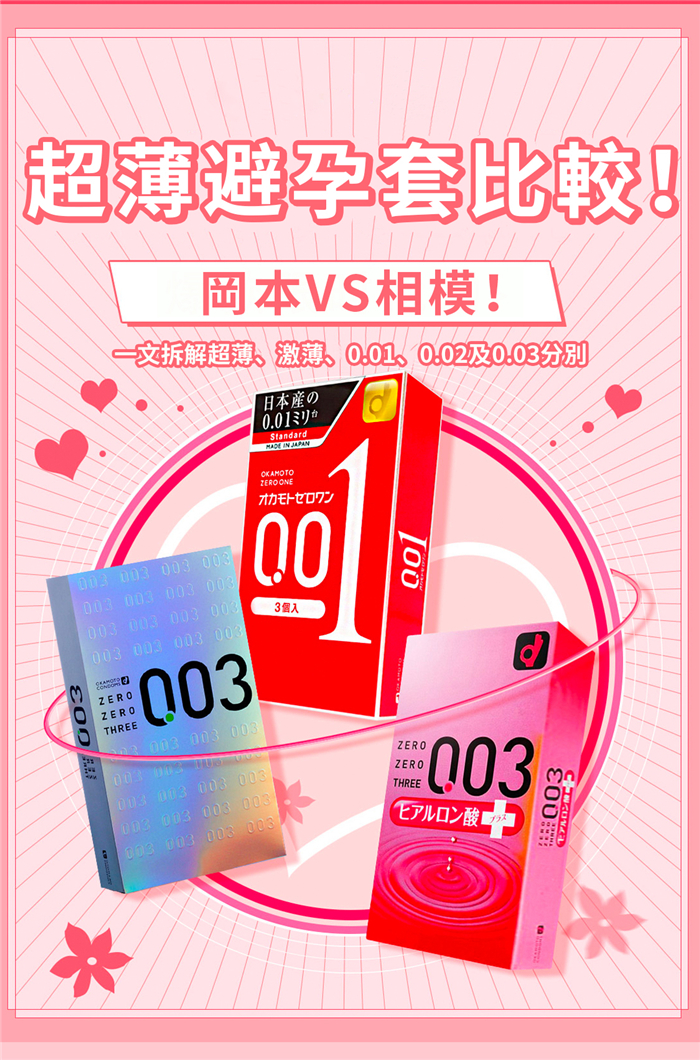 This article breaks down the differences between ultra-thin, super-thin, 0.01, 0.02, and 0.03 condoms. Which brand of ultra-thin condoms is recommended? Whenever you go to a convenience store or supermarket, you will see many condom packages with numbers like 0.01, 0.02, and 0.03 printed on them. Do these numbers represent ultra-thin condoms? Is there a unit of measurement for these numbers? This time, we will examine the investigation conducted by the Consumer Council to reveal the truth to everyone. Of course, we will also tell you which brand of condom is the thinnest.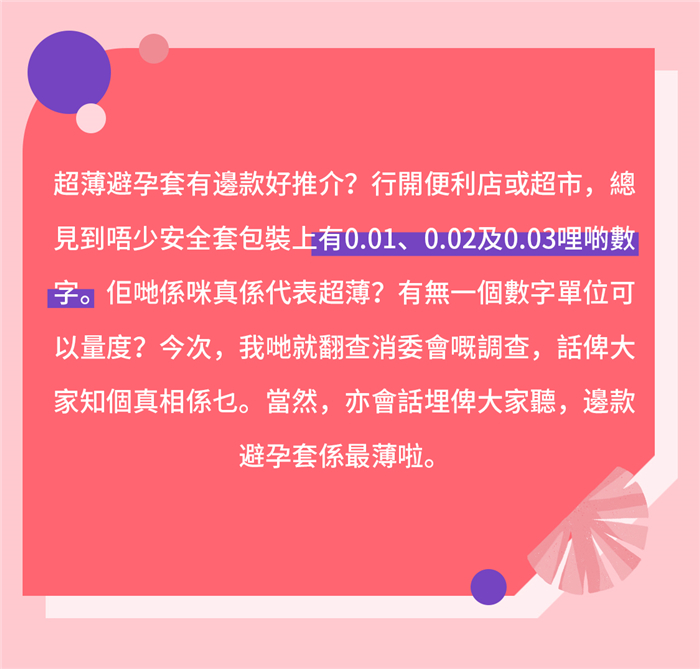 Definition of Ultra-thin Condoms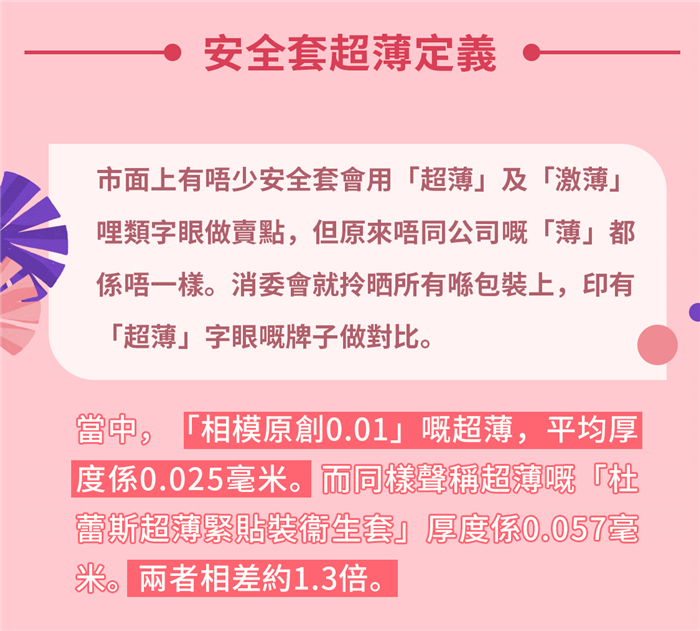 Many condom brands on the market use "ultra-thin" and "super-thin" as their selling points, but the "thinness" of different companies is not the same. The Consumer Council compared all the brands with the word "ultra-thin" on their packaging. Among them, the average thickness of Sagami's "Original 0.01" ultra-thin condom is 0.025mm, while Durex's "Ultra-thin Tight-fit Condom" with the same claim of being ultra-thin has a thickness of 0.057mm. The difference between the two is about 1.3 times.
Are 0.01, 0.02, and 0.03 codes for ultra-thin condoms?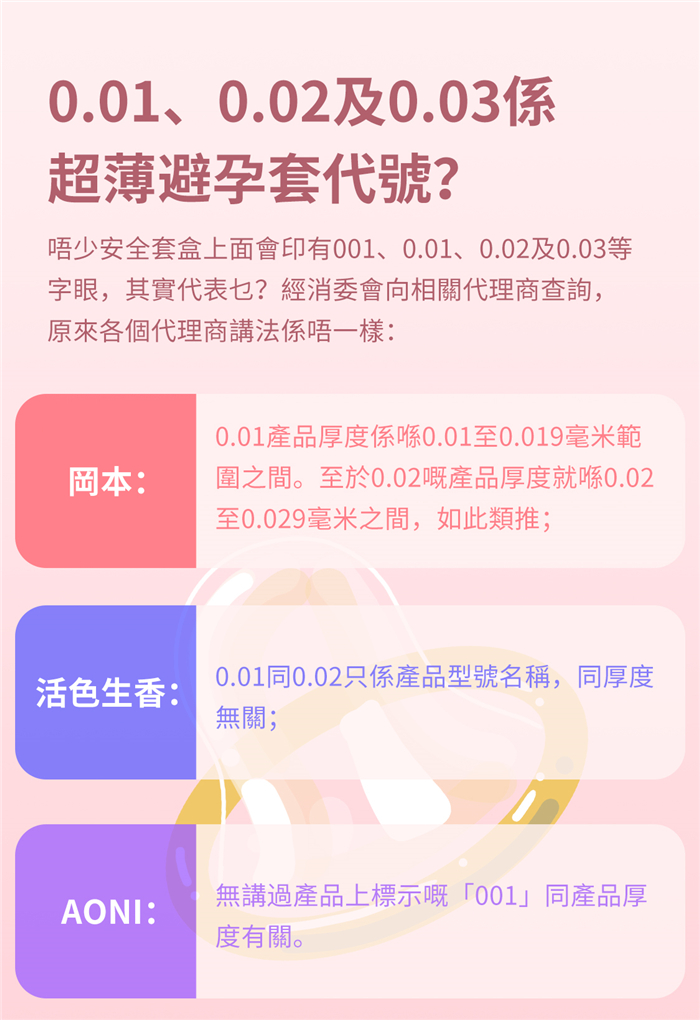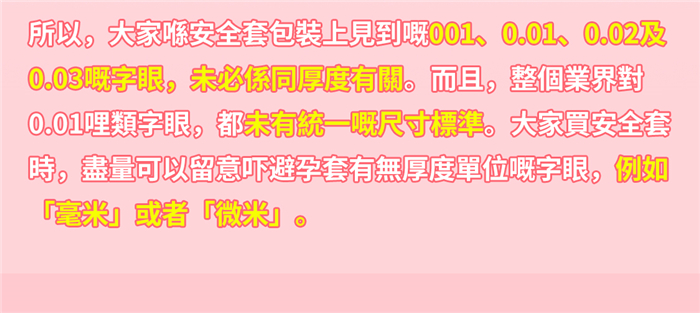 Many condom boxes have codes like 001, 0.01, 0.02, and 0.03 printed on them. What do they represent? The Consumer Council consulted the relevant agents and found that different agents have different explanations: Okamoto: the thickness of the 0.01 product is between 0.01 and 0.019mm. The thickness of the 0.02 product is between 0.02 and 0.029mm, and so on. LifeStyles: 0.01 and 0.02 are just model names and have nothing to do with thickness. Aoni: the "001" indicated on the product label is not related to the thickness of the product. Therefore, the codes 001, 0.01, 0.02, and 0.03 seen on condom packaging may not be related to thickness. Moreover, there is no unified size standard for codes like 0.01 in the entire industry. When buying condoms, try to pay attention to whether there are units of thickness like "millimeters" or "micrometers" in the packaging.
Which Condom Material is Thinner and Better?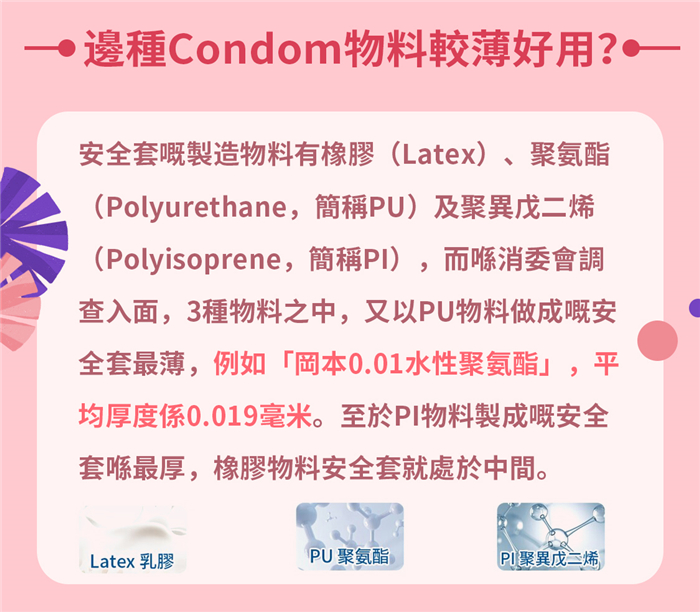 Condoms are made of rubber (latex), polyurethane (PU), and polyisoprene (PI). In the Consumer Council investigation, condoms made of PU material are the thinnest, such as "Okamoto 0.01 Hydro Polyurethane" with an average thickness of 0.019mm. Condoms made of PI material are the thickest, while condoms made of rubber material are in the middle.
Comparison table of Ultra-thin Condoms
Three types of thinnest PI material condoms are: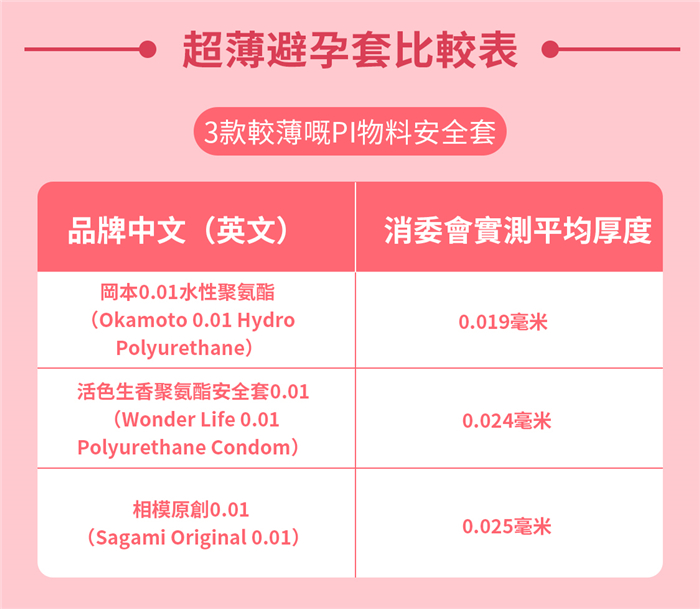 | | |
| --- | --- |
| Brand Name | Thickness tested by Consumer Council |
| 岡本0.01水性聚氨酯 (Okamoto 0.01 Hydro Polyurethane) | 0.019mm |
| 活色生香聚氨酯安全套0.01(Wonder Life 0.01 Polyurethane Condom) | 0.024mm |
| 相模原創0.01 (Sagami Original 0.01) | 0.025mm |
3 types of thinner rubber material condoms: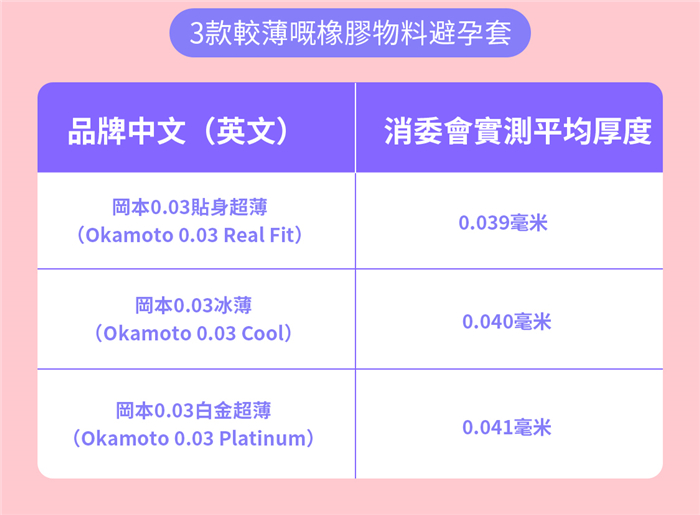 | | |
| --- | --- |
| Brand Name | Thickness tested by Consumer Council |
| 岡本0.03貼身超薄(Okamoto 0.03 Real Fit) | 0.039mm |
| 岡本0.03冰薄(Okamoto 0.03 Cool) | 0.040mm |
| 岡本0.03白金超薄(Okamoto 0.03 Platinum) | 0.041mm |
Are there condoms with anesthetic? Are they safe?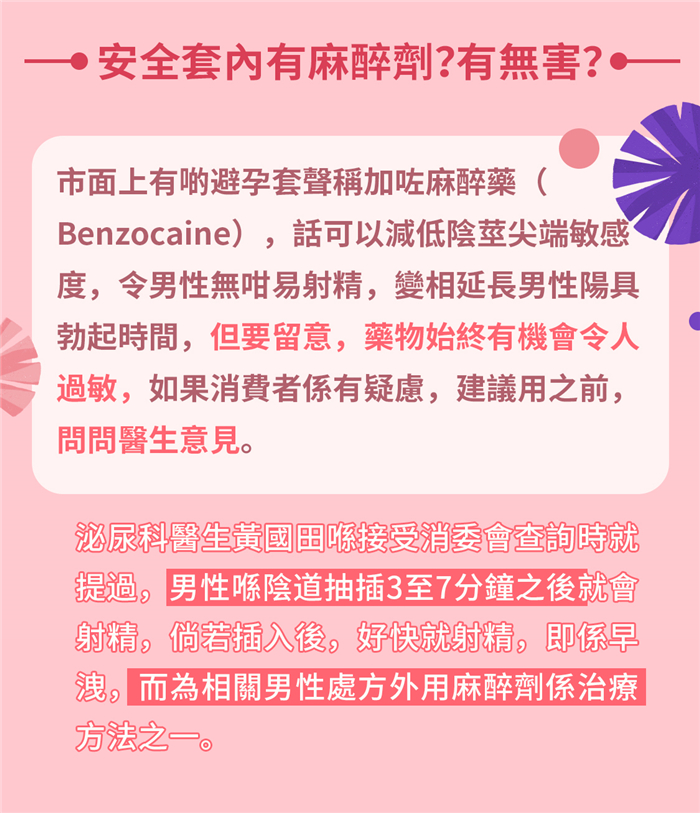 Some condoms on the market claim to contain anesthetic (benzocaine) that can reduce sensitivity of the penis, making it less likely for men to ejaculate and effectively prolonging erection time. However, it is important to note that there is a chance of an allergic reaction to the medication. If consumers have concerns, it is recommended to consult a doctor before use. Urologist Dr. Wong Kwok-tin mentioned in an interview with the Consumer Council that men typically ejaculate within 3-7 minutes of vaginal penetration, and the use of anesthetic is one of the treatment methods for premature ejaculation.
Do thicker condoms make sex last longer?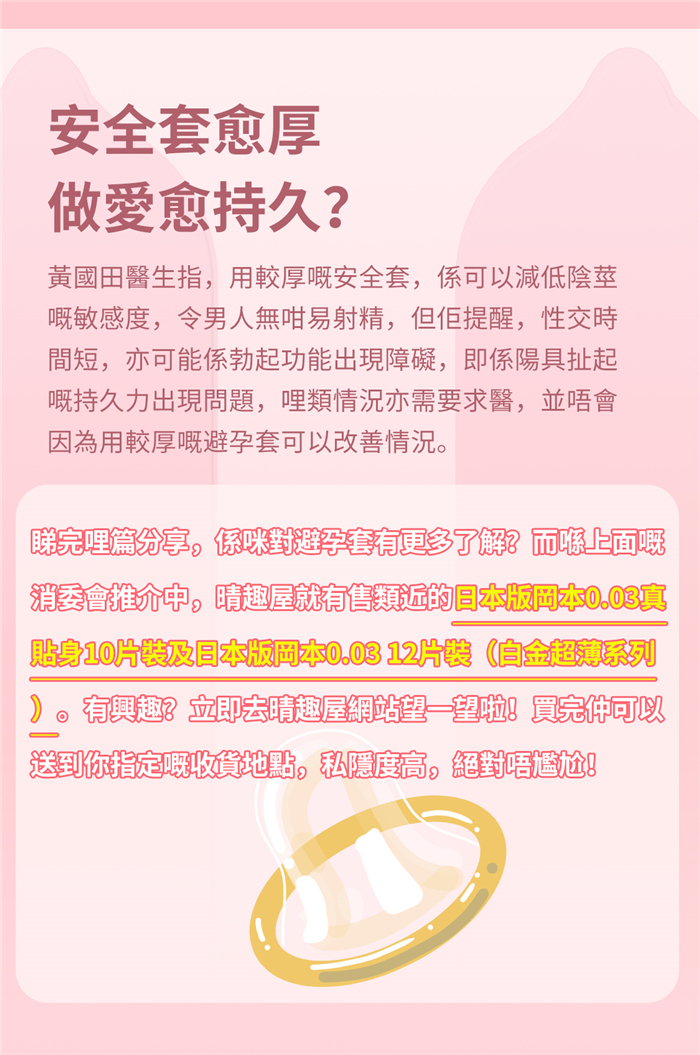 Dr. Wong stated that using thicker condoms can reduce sensitivity of the penis, making it less likely for men to ejaculate prematurely. However, he also cautioned that a short sexual intercourse duration may be due to problems with erectile function, or the ability to maintain an erection, which requires medical attention. Using thicker condoms is not a guaranteed solution to this problem.
After reading this article, do you have a better understanding of condoms? In the Consumer Council's recommendations, Adult Loving sells the Okamoto 0.03 Real Fit 10pcs and the Okamoto 0.03 Ultra Thin Condom 12pcs. Interested? Visit our website now! After purchase, we can even deliver to your specified address.